Tanaka Reina Fanart
Fanart Preview: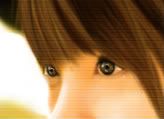 Fandom: Morning Musume
Subject: Takana Reina
Theme: ---
My thoughts: This is my second attempt at "realism".(<-- note the quotes)
Reina is my favorite Momusu member so I wanted to try drawing her.
But anyway, for my second attempt I thought it turned out alright. But there are still alot of problems w/ this piece. IE, the hair is a bit weird. She looks a bit more chubby here than in reality. My background is full of fail. And w/o the "tv-lines" this picture would look super flat and more crappy than what it already is...
So ultimately, I still have a lot to improve on...